Benno is a passionate rower. In 2018, he became European indoor rowing champion with the veterans. During a visit to NYC, he saw that indoor rowing studios are extremely popular there, not only with rowers, but with everyone who wants to get fit in a fun way. He got hooked. Back in the Netherlands, it kept weighing on him, and Benno contacted the Muda twins. Eventually, he decided to reduce his work as a lawyer and to set up the first indoor rowing studio in the Netherlands. RowStudio Amsterdam was born.
Favorite After Rowing Snack: Skyr with berries
Favorite Rowing Track: Sweet Child of Mine (G 'n R)
Tycho Muda
Head instructor
Tycho Muda
Head instructor
Tycho is a true energy bomb. He started rowing as an 11-year-old, made it to the Dutch National rowing team and took part in the 2012 Olympics. A few years later he graduated from the Johan Cruijff Institute and began to share his passion for sports by giving personal and group fitness training. In his training sessions there will never be a dull moment. Tycho will jump around to keep you motivated and help you to get the best out of yourself.
Favorite After Rowing Snack: Cold beer
Favorite Rowing Track: Deephouse or Techno, as long as there's a pumping beat in it
Vincent Muda
Head instructor
Vincent Muda
Head instructor
When training for the Olympics Vincent and his twin brother Tycho were affectionately called the Rebels of Rowing. And if you meet them, you know why. Vincent is always up for a joke and a good laugh is never far away. But Vincent is also very interested in other people's motivations and ambitions. As a RowStudio instructor he does the utmost to turn them into reality. He will always challenge you, but make sure you leave the room with a smile on your face too.
Favorite After Rowing Snack: Pasta with truffle and parmesan
Favorite Rowing Track: Ibiza global radio
Noelle is a performing artist. She has been dancing since the age of five and completed the Amsterdam Theatre School specialized in Jazz-Musical. Noelle is an experienced pilates and barre teacher and has only recently learned that rowing is an amazing exercise to add to your fitness routine. Noelle is the living proof that anyone can learn to row. She loves to combine rowing with pilates. It is a great workout that makes you feel inspired and energized.
Favorite After Rowing Snack: Fruit or vegetable smoothy
Favorite Rowing Track: Techno mix sounds like Dua Lipa and Cola from Camelphat
Jillian O'Mara
Instructor
Jillian O'Mara
Instructor
Jillian started rowing in her hometown Seattle (United States) during her teens. Although she had to get up at 5 in the morning, she immediately loved it. She enjoyed being on the water with her crew and getting faster. Later Jillian became a great rowing and fitness coach and worked for the World Rowing Federation in Switzerland. At RowStudio Jillian will add team spirit to each session. She knows, good results feel way better if you achieve them together!
Favorite After Rowing Snack: Peanut butter and banana
Favorite Rowing Track: Little by Little by Ulf Nilsson
Alessio Cucina
Instructor
Alessio Cucina
Instructor
As a former professional soccer player in Italy, sports is everything for Alessio. At the age of 23 he discovered the benefits of a rowing based workout and when he started to work as a fitness trainer the indoor rower became one of his favorite exercises. In his sessions, Alessio's focus is to free the mind. You drift away in a natural flow of exercises on and off the rower. Before you know it, it's all done and you leave the studio stronger and proud of yourself.
Favorite After Rowing Snack: Natural protein shake
Favorite Rowing Track: Any hip hop beat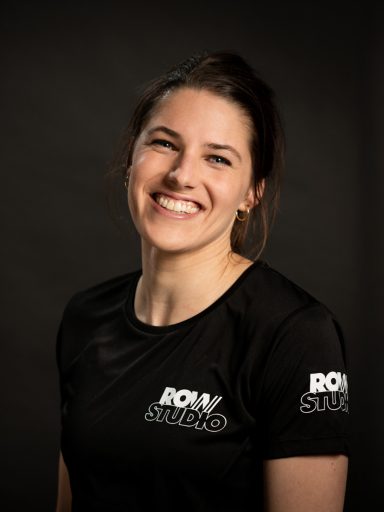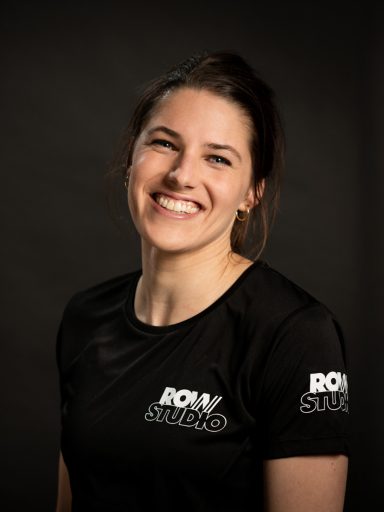 Lorijne is a true multi-talent. Having obtained a bachelor degree in Fine Arts, she teaches photography at De Nederlandse Fotovakschool and is a graphic designer. In addition to that, Lorijne is an experienced Ashtanga Yoga teacher. She has followed extensive yoga teacher trainings in India and Thailand. Lorijne started rowing at the age of 19. She loves the sport as it is a great full-body workout and it's a perfect combination with yoga.
Favorite After Rowing Snack: Rice cracker with peanut butter or chocolate sprinkles
Favorite Rowing Track: Eye of the tiger
JOBS
Let's create something awesome.
Are you into sports and fitness? Do you have an outgoing and likeable personality? Then you might just be the exact person we are looking for!