Let's make a move
RowStudio 6 Week Power Challenge
Are you ready to make a move? A big one? Then grab your calendar. And put a big cross on your Tuesday evenings. Because that's when you'll be working on your power, baby!
6x Tuesday evening from 7.00 – 7.45PM
starting on January 10, 2023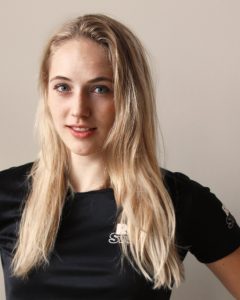 We'll start easily, recovering from the holiday season. With a focus on rowing technique. But the weeks after that… brace yourself.
We'll build up in endurance and in strength. Every week a little extra. You keep it up because we do it together, with Kim as your coach.
We start with a team of 19 and every Tuesday you sweat with that same team. We'll finish with an hour-long blast workout on February 14, 2023. And all this for only €69.
Want to commit yourself to making a move? Do you think you can do it?
Then buy the series now! We only have 19 spots.
Frequently asked questions
How does the signup work?
You can signup by buying the special Challenge series and book a spot in all 6 challenge workouts. The Challenge is on, when we have 19 applications in. If there are not 19 applications on 8 January, we will inform you by email and refund the paid amount.
I already have a series/membership, can I join the 6 Week Power Challenge with that?
You can only join the 6 Week Power Challenge after purchasing the 6 Week Power Challenge series. We make an exception if you have an active Unlimited membership. In that case, you can join the program for an additional fee of €9. Click here to buy the supplement.
Is only 1 workout per week enough to seriously boost my power?
For optimal results we recommend joining 1-2 additional regular Launch, Ripped or Booty workouts per week. So it would be great to combine the 6-Week Power Challenge  with your Row Lite membership or with booking workouts through OneFit or ClassPass.
What if I can't participate in all 6 workouts?
Sign up only if you are available most of the 6 Tuesday evenings. If you are unable to attend, you can cancel your booking up to 12 hours before the workout, but your entitlement to the workout will then expire. You can not reschedule. If you cancel your booking within the said 12-hour period or do not show up, we charge a fee of 10 euros. We do this because we would find it unfortunate if places remain empty. Let's finish this together!
Is the 6 Week Power Challenge bookable through ClassPass or OneFit?
It is not possible to book the workouts of the 6 Week Power Challenge  through ClassPass or OneFit. If you normally book through ClassPass and want to purchase the 6 Week Power Challenge series, we can make sure that your data will be on the same account. To do so, contact us via the app tool at the left bottom corner of your screen or via email: info@rowstudio.nl.
Who is the trainer?
In principle all workouts will be hosted by our master trainer Kim, except the workout on 17 January. If Kim is unavailable due to unforeseen circumstances, another RowStudio trainer will take over.
Any other questions? Use the app tool in the left bottom corner of your screen or send an email to info@rowstudio.nl.